Anna Sweet - Artist and Fine Art Photographer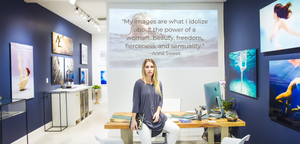 I first was introduced to Anna several years ago when she was opening a new gallery space in Key West and was looking to carry additional artists. She reached out to inquire about us working together and the first time I saw her artwork, my jaw dropped. It is simply stunning. 
Anna has a few different lines of work all inspired by the ocean but my personal favorites are still her photos of women underwater. They have an ethereal beauty, bold yet serene, powerful but softened by sensual femininity. Her work also has an element of suspended movement that I really resonate with, like a magical ballet under the waves. Her pieces are just incredible.
Just like her artwork, Anna is a force of nature. She' a multi-passionate entrepreneur: fine art photographer, painter, gallery owner, and now her latest endeavor, winemaker. She is also mama to Alice and has a little one on the way.
It has been an absolute pleasure and honor to work with Anna over the years. She has captured beautiful images of my jewelry (as you can see below) that I treasure. I have been saving up and I am thrilled to have her beautiful image "Parish" now hanging in my studio. It was almost impossible to decide which piece to choose, I am such a fan of her work. I truly admire the business and life she has created and the beauty she creates with her art! 
Anna and her family are moving to the Willamette Valley in Oregon to begin their next chapter. She is closing her gallery in Key West, but please follow her on IG for her latest updates. You can also purchase her work on her website listed in the links below!
Read more about Anna's artistic journey here.
Visit her website: https://www.annasweet.com/
47 Responses
Leave a comment