Full Circle with Han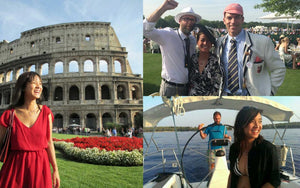 It's the first day of spring in New York. The snow is still on the ground and a feeling of hope for new beginnings starts to tug at the heavy coats everyone is wearing when I burst through the door of my apartment building. Then I see the box. From my friend and fellow artist, Vanessa. 
The moment I open it, the hurry and the cold fall away as if spring is already here. Inside is a delicately hammered silver necklace. Seeing it is like seeing an old friend, and time, for a moment, is on pause - the kind of languid richness that always seems to cloak important memories, when you are happiest, when your life changes. 
Do you know those moments? 
I met Vanessa in one of the golden periods of life - full of friendship, new loves, and art in San Francisco. I remember walks with her in Yerba Buena Gardens as she shared the story of starting her jewelry line, which was then young, but from then to today - her sense of design is still fresh to me. One of the first of many necklaces I bought from her was this silver circle necklace - I loved the textures of the hammered finish which combined the simplicity of a perfect circle with room for individuality and imperfection. If anything, the texture caught the light, and glowed like a moon on my neck, representing to me many things - unity, simplicity, warmth. In fact, it was a moon for many others I met - every time I wore the necklace (and I rarely took it off for the years I had it) people would always ask to hold it. 
This is the power of creating something that embodies your passions, and supporting the passions of others - it connects you in ways you can't imagine. 
My time in San Francisco ended with another of those moments - when certain momentous things happen you also don't expect, and you're ready to let go of the past to grab a hold of the future. 
Since then, I've gotten a graduate degree in Scotland, conquered my allergies to ride a camel across the Sahara, fallen in love on the Camino de Santiago in Spain, raced rowboats in London, learned to sail to Croatia and Turkey, started a technology non-profit to help women and girls in crisis, and many more adventures that came at a certain cost -- the lightness of being open to go where the world would take me meant also that I carried very little, instead clothing myself in adventure and the constantly changing colors of the way I was changed by the people I met. 
The one thing I carried through all of this time, and all of these countries, was Vanessa's circle necklace. It was something that seemed at home -- and indeed helped me feel at home -- whether I was on a camel in the desert or in the Stewards' enclosure at Henley where the fashion was as eye-catching as the athleticism. Even across all these places, people connected with it, reaching out to touch it, and sharing their stories with me. 
A few months before I would return to the US after many years abroad, the necklace slipped out of my possession somewhere between a journalism conference in Spain and some design work in Greece.  
It was as if it knew it was time to come home. 
Here I am, back in the US. It's a new era for myself and the country, and I am beginning to buy my first physical books in a long time - I even have a bookshelf.  
My suitcase is in the corner, and I'm ready to create my life in my new home. I still love having very few things - it makes me feel light enough to do anything.  
Yet, thinking back to what gave me strength and centered me on my adventures around the world, I think about the necklace - and wonder how something so small and simple could mean so much to me. 
Vanessa heard about my adventures, and that I was coming home. So on that snowy day in New York, when spring had just come, I received a piece of beauty and friendship inside a box, reminding me, some things do come full circle… when you least expect it. 
Love, 
Han 
1 Response
Leave a comment
Comments will be approved before showing up.