Hillary & Matt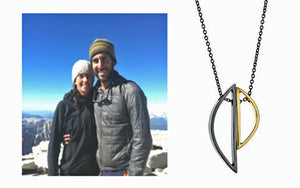 The beautiful necklace was sent to our friend Lindsay. She was assigned the task of bringing the precious necklace onto the trail. When H was washing up the hand-off happened, and the necklace was secured in my backpack for the right moment...
The right moment came after 13 miles over the highest pass in California. We arrived at camp and I knew this would be the place and the evening I would share Vanessa's beautiful necklace with Hillary and I would ask her to spend the rest of her life with me.
The camp was beside a beautiful pond set in a valley beneath Mount Witney and Mount Muir. At 6 PM when the sun would shine its last ray of light on our campsite. We walked to a rock to overlook it all. I took out some celebratory wine to commemorate our amazing hike that day--the last pass until Witney. And then I said there was one more special thing I wanted to share. Something that would celebrate something so much greater.
I asked Hilly to start unwrapping the protective duck-tape that protected Vanessa's beautiful box. When Vanessa's insignia was visible, I gently took the box from Hillary's hand and got on one knee. I opened the box and...

...with tears in our eyes, amazing memories and hopes for the futures in our minds, and so much love and gratitude and love in our hearts we celebrated our love. The necklace was simple, sophisticated, pure and beautiful just like my Hillary. Thank you, Vanessa, for being such an important part of our next chapter.
Leave a comment
Comments will be approved before showing up.